EAGLE REGIMENT AND COLOR GUARD
Have you thought about joining the Eagle Regiment to play an instrument or dance in the Color Guard? Drumline, Woodwinds, Brass and Color Guard have spring semester programs. You'll earn PE credit, make new friends and perform at major school events. There is a place for everyone. For more information, contact Michael Whang at
whangm@smhs.org
In Their Own Words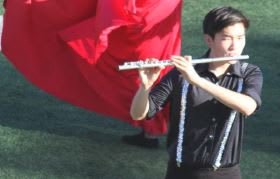 Jordon Cheung '20
"Band is where I've made eternal friendships, where I've developed a greater passion for music, and where I've enjoyed every single minute of my time on the field. Through marching band, I feel like I've truly found a place to belong and thrive at SM, and I can't be more grateful to the Eagle Regiment for giving me a home and a community where I can make music every day."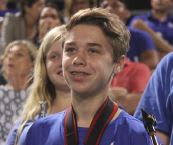 John O'Braitis '22
"As a freshman, it was really great to begin marching band before school started so I could meet people and get comfortable with the campus. The upperclassmen were really nice and gave great advice. The football games are a lot of fun. Marching band is a lot of work but, it's worth it when you win competitions with your classmates."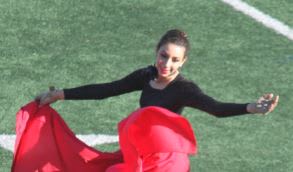 Jessica Hamra '21
"Band and guard are definitely my second family and I know if I ever need anything they will help. The coaches are so supportive and always pushing you to do your best. If I didn't join my freshman year, I would not be the person I am today. This is definitely my favorite part of SM and the best part of my high school experience. I know I'm going to cherish these memories for the rest of my life."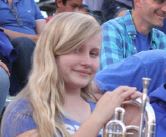 Charlotte Cardarella '21
"The marching band and color guard was not only a place for me to grow my musical abilities, but it was also a place for me to find a trustworthy group of friends that I can always count on. Before marching band, I had never touched a mellophone before, and now it's one of my main instruments."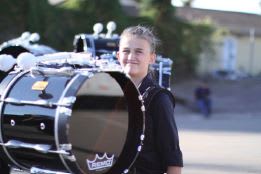 Allie Sadoff '22
"I moved from North Carolina and was concerned about not knowing anyone at school. After getting to know people at band camp, I was a lot more comfortable about going to the first day of school. I learned more about how to play my instrument and was proud to represent SM at football games and school events."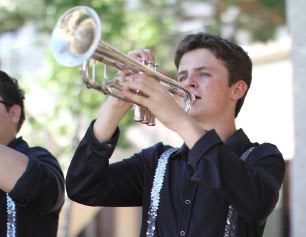 Michael Erhardt '20
"Over the three years that I've played trumpet in the Eagle Regiment, not only have my instrumental skills increased drastically, but I have made multiple friends. Mr. Whang and his staff are always willing to help with any tasks or problems that you may face. The marching band members bond not only through rehearsals and performances, but we have many other events outside of school. Marching band has become a key part of my total SM experience."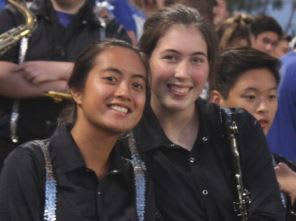 Emma Tajonera '20
"My past few years of high school, marching band has been a way for me to bring my musical skills somewhere outside the band room. Coming from a public school, I didn't have many friends at SM. However, when I joined marching band my freshman year, the members of the band openly welcomed me into the program and I formed friendships with many of them. I always have fun and I can gladly say that I have made my closest friendships because of marching band."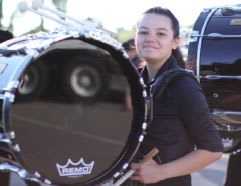 Katie Alker '20
"Ever since coming to my first clinic as an eighth grader, the people in the Eagle Regiment have always made me feel welcome and made sure I had a familiar face in the crowd. It has been a great way I get to meet new people. Our regiment family has always stuck by each other and welcomed new members with the same enthusiasm as we welcome our vets."


Jacob Reis '20
"I have truly enjoyed the Eagle Regiment for the past two years. I have met some very nice, protective, sweet and funny and talented people. The Eagle Regiment has been my second family in the past two years. The leaders and the teachers are super helpful towards your music career as a high schooler. I had never played a wind instrument before I joined marching band. It was very difficult at first but once I got the help from Mr. Whang and my close friend, Matthew Stinson, it became easier and easier due to the effort I put into it."


Makena Tozzer '20
"My rookie season was the best thing to ever happen to me. I made friends for life who I know I'll stay in contact with forever. I've developed great friendships with not only color guard but with the entire band. One of my favorite memories was before a football game, we all played ninja and the human pretzel game together. This meant so much to have fun before our performance and reminded me of the great friends I've made this season. Even though field season is over, everyone still hangs out together in the band room – our friendships continue year round. "


Nicole Forrester '20
"I joined marching band my sophomore year having a small background in music education, but I had never played a classical instrument before. It was so fun learning a new instrument and being able to carry out my new skills with the band. I learned quickly that band was a family more than anything else and I grew to love the community I joined. Marching band will always be something within me and I cannot wait for next year!"